Last Updated on August 24, 2021
Vastmedic VM8 is an effective device for cleaning the Continuous Positive Airway Pressure (CPAP) hose and mask.
It uses germ-killing activated oxygen (Ozone) and UV light to clean items.  The device is generally designed for home use.
👉👉👉 Read How do We Test CPAP Sanitizers 👈👈👈
Key Features:
Cleans all Bacteria and Viruses:
Vastmedic CPAP Cleaner thoroughly cleans all the CPAP materials and other equipment. In every disinfection cycle, the device removes about 99% of all bacteria. It also keeps your hoses and masks free from viral and bacterial growth each time you use them.  And you can  use it every day.
Compatible Dual Mode:
Vastmedic VM8 Cleaner is designed for use with different types of CPAP machines. It's highly compatible since it's designed with a special mini adapter and the heated hose. For a complete disinfection process, the cleaner also comes with a dual-mode function.
Versatile Multifunctional Properties: You can use Vastmedic VM8 to disinfect different CPAP accessories and masks; you can do this as long as the items can fit into the device compartment. You may even use it to sanitize household and medical items (like toothbrushes and dentures).
Affordable: Vastmedic VM8 CPAP Cleaner is relatively inexpensive. Despite its affordability, when you buy this device, you have a high-quality item to care for your health and safety.
Quiet Operation: The Vastmedic VM8 comes with a powerful dual cleaning mode. You can use the device's built-in mirrors to reflect the light efficiently for 360-degree coverage. The device operates quietly and is designed with an activated cotton filter to reduce odors. Also, the devices come with an open lid power-off protection without any residue or secondary protection.
Large Capacity:  Vastmedic VM8 is designed as a large capacity device with spacious interior and external dimensions- it's suitable for cleaning all non-living items, including the water chamber, hose, pillows, jewelry, toothbrush, toys, and cell phones.
Easy-to-use/ Digital Timer: You can independently set the cleaning mode and duration as you please. The device comes with an interactive display screen with easy-to-use touch feedback. You can also set the digital timer to run the device automatically.
NB: Before commencing the sterilization process, always make sure you remove and empty the CPAP machine's water reservoir.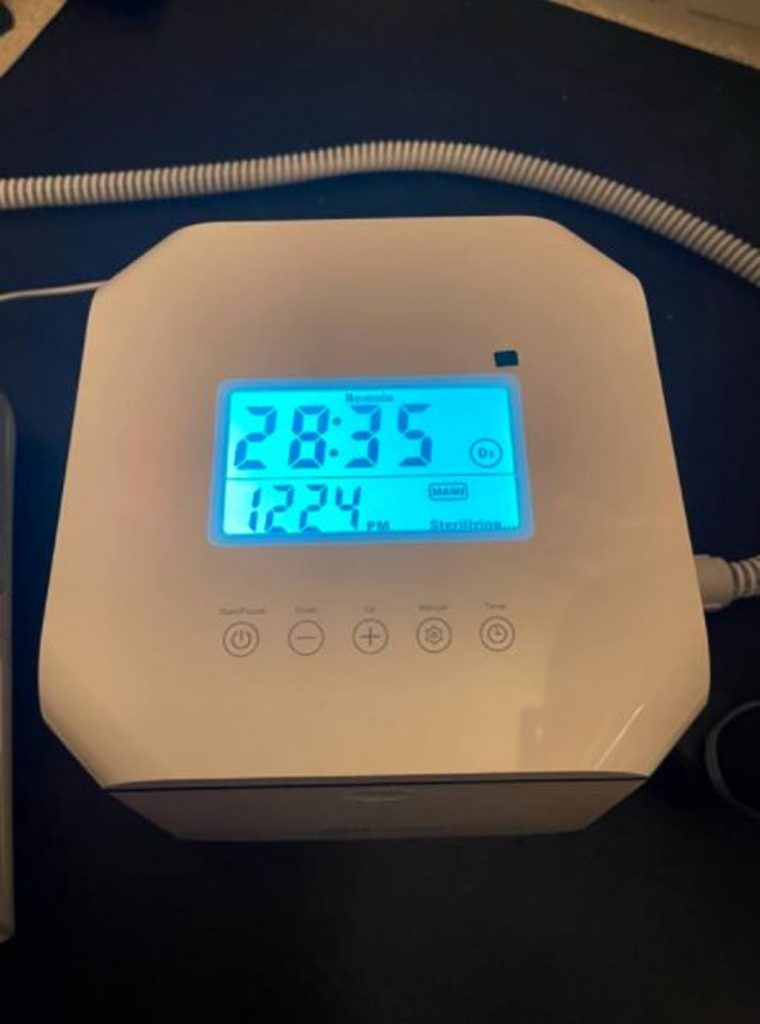 How to run the Vastmedic VM8 Cpap Cleaner UV Disinfection Mode

Put all items into the chamber- close the chamber lid
To turn it on, press the start/ pause button
To switch the mode, press the manual button until the UV indicator is on
Now, press the +/- button to adjust the duration. Keep in mind that the default UV disinfection time is 5-15 min.
Next, press the start/ pause button for about 3 seconds to turn off the cleaner. Wait until it beeps and the lights go off.
Vastmedic VM8 Cpap Cleaner Pros ( Benefits)
Here are some user's reviews/ recommendations on the product pros:
Millie Gorilly gives the product a top rating (5 out of 5).
She says: The product is super easy to use. It arrived pretty quickly soon after the order went through. I always clean my CPAP mask and hose using the Vastmedic VM8 Cpap Cleaner.

I no longer have to hang my hose over the shower rod, hoping it'll dry before I go to bed. I use it to clean other items like my cell phones and keys. It takes a short time to do its work. I wish I purchased the Vastmedic VM8 Cpap Cleaner years ago.

Similarly, Ivah Cockerham gives Vastmedic VM8 Cpap Cleaner a 5 out of 5 score.

He says:

Vastmedic VM8 Cpap Cleaner is an excellent device that's quite affordable. I really like the machine; I bought it a month ago and uses it every single day.
Another satisfied customer says:
I give it 5.0 out of 5 stars.
This is a good value item- easy to use. The item looks and works exactly as the directions say. It's also easy to use. And all my CPAP items fit inside.

It's also easy to do external cleaning. I only wish I had bought the product sooner. And it's really good value for money; in fact, the actual price was less than the price quoted by my CPAP dealer.
What Do the Users Say about the Product's Downsides/ Cons?
Shae S. gives the product 2 out 5.
He says:
Honestly, I'm not sure. Just like I always do with most electronics, I was so excited to acquire this product. Actually it looks fine- looks like it works. However, I'm not quite sure if it works. How could anyone be? When you put anything inside, it'll be there when you take it out.

Of course, this is not like a washer where the visible results are there to see. And I discovered I still get congested sometimes. Again, I worry about the Ozone's toxic properties- however little there is.

Like others, I hate the idea of having to clean my CPAP each day-manually-. But I feel I must continue doing this until I'm sure this machine really works. Otherwise, I might have to shop for a different cleaning machine- I'm not sure.

What sucks the most with Vastmedic VM8 Cpap Cleaner? I guess I'd have to use it for several months before I can give an honest review. If I didn't have enough time to review this machine- like 2 months- then I'd be ready to return mine to the dealers; I'm simply not sure this device works.
White says:
I rate the product low- I give it 1.0 out of 5. I paid to get a new item, but the dealers shipped over a pre-owned unit. Yes, unfortunately, what I received was pre-owned. The product wasn't in a sealed wrapper. The lid contained some scuff marks- clearly, someone tried to wipe it clean.

Also, the tab for the plastic film which protects the screen was already torn; it could not remove the film. I'm badly disappointed; why. Who sends a used medical device to a customer who paid the full price for a new unit?

I'll never recommend this company.
Vastmedic Official Video
Conclusion:
Undoubtedly, Vastmedic VM8 Cpap Cleaner is an effective, valuable CPAP cleaner. Hundreds of users recommend the product as both high quality and effective.
Of course, the product has some cons-mostly to do with delivery processes and instructions for users. Overall, Vastmedic VM8 Cpap Cleaner generally comes out as an affordable, effective CPAP cleaner for everyday use.