Clyn UVC Light CPAP Sanitizer is a well-known high-quality sanitizer. Many users say it can kill 99% of bacteria, pathogens, fungi, and viruses.
Unlike other common sanitizers, you can use clyn CPAP sanitizer to disinfect the inside and outside parts of the CPAP/BiPAP tubing.  Yes, clyn UVC sanitizer can protect those who use CPAP equipment from the risk of catching many infections and illnesses.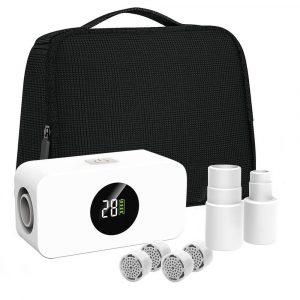 Clyn UV is not available anymore
That's why we recommend a better alternative:
Clyn CZ001
Kills 99.9% of germs and viruses
Easy set up in under 1 minute
Fast-charging battery with more than ten cycles per charge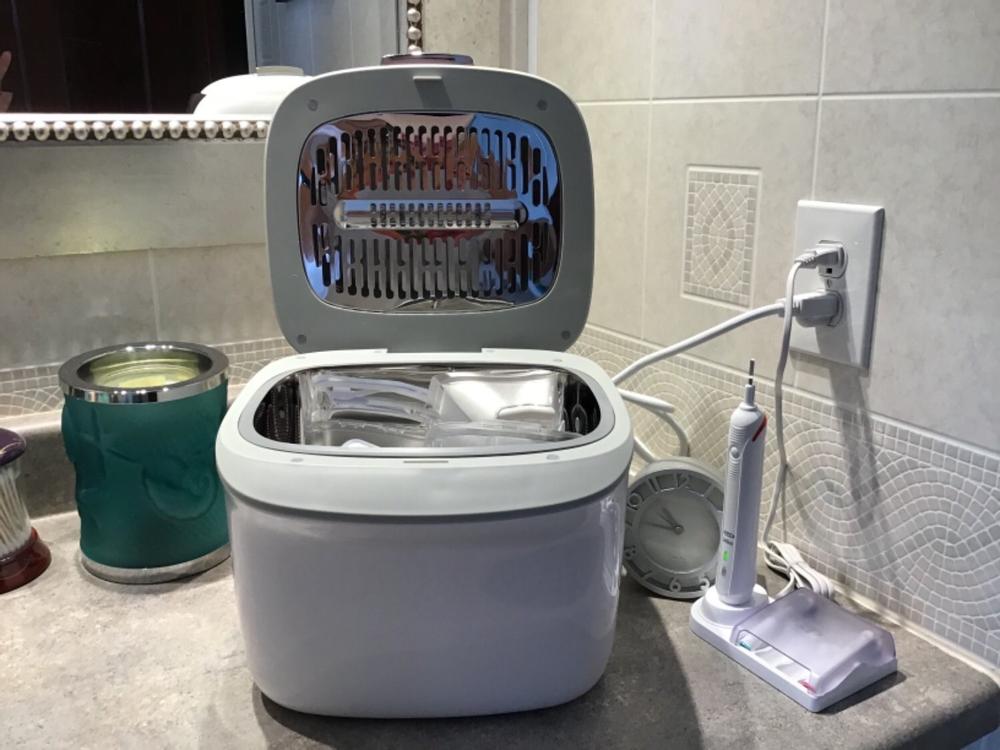 What do you get when you purchase Clyn 6901 UV CPAP Sanitizer?
Well, this is what you can expect:
Clyn 6901 Sanitizer and dryer device X 1
User manual X1
CPAP hose adapter X 1
30 –Day free return
1-year warranty
2 Pieces of air filter
Here are the product's other key specifications:
Model: 6901
Dimension: 11 x 11 x 9.6 inch
Voltage: 110V 60Hz
Weight: 4.5 lbs
Power Rating: 8W – Sanitizing
Storage Temperature: 0 to 120F
,, ,, : 75W- Drying
Capacity: 7L
Voltage: 110V 60Hz
Operating Temperature: 20 to 100F
Why Should You Choose Clyn 6901 UVC Home Sanitizer?  Clyn 6901 UV Sanitizer comes with some efficient features.
Consider the following:
Essential features of the Clyn 6901 UVC Home Sanitizer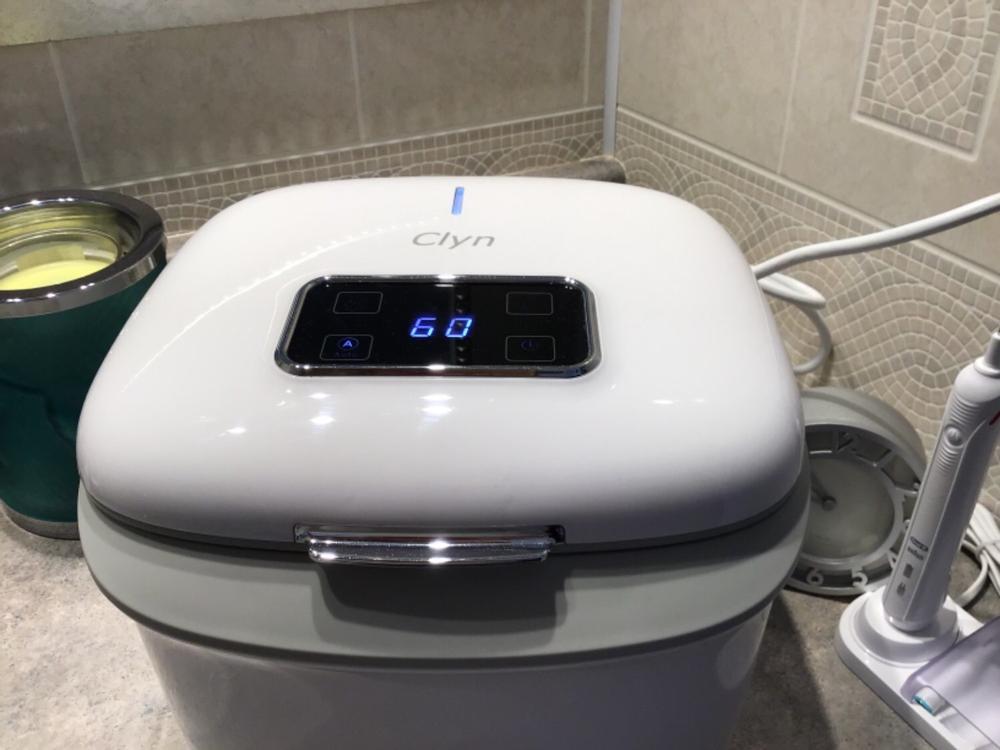 Designed with UV-C LED technology:  Clyn 6901 UVC Home Sanitizer is designed with smaller UV-C LED chips making it more energy-efficient and economical when compared with the traditional Mercury-based UV technology.
Nanometer Spectrum UV-C Wavelength: The Clyn 6901 UVC Home Sanitizer also comes with a 254-nanometer spectrum UV-C wavelength. Thus it's uniquely equipped to eradicate germs and bacteria before they can spread everywhere.
Multifunctional UV CPAP Sanitizer Box – You can easily clean your CPAP mask with this efficient cleaner. You can also clean other items, including your work passes, credit cards, phones, and keys.
Remarkably, all these can be sterilized in only 15 minutes. The cleaner's sanitizer box offers a convenient dry cycle for various baby articles. Yes, with Clyn 6901, UV Sanitizer will be left secure and healthy.
New Drying Function:  You can choose to run the device with the automatic dry and sanitize mode or the dry operation mode. With this, you can dry the CPAP hose's inner side and other household stuff.
Uniquely Lab-Tested: The Clyn 6901 UV Sanitizer is especially lab-tested to reduce viruses and bacteria. The device can kill 99.99% of viruses, bacteria, and mold with its strong UV-C light.
Triple Operation Modes:  You can run this device in 3 operation modes: The dry mode (45 minutes), automatic dry and sanitize (60 minutes), and sanitize mode (15 minutes).
Why Do Many Recommend Clyn 6901 UV as an Effective Sanitizer? The Pros/ Benefits
Listen to what a consumer said after using Clyn 6901 UVC Home Sanitizer:
I'll readily recommend this product; why, it's super easy, leaves lots of room; yeah, I love this machine! It's pretty roomy and very easy to use. Also, the UV doesn't damage my Bipap the way Ozone does!
She continues:
I highly recommend this sanitizer… to me it's great, easy to use and quiet. It seems to do a thorough job though it's hard to tell. With lots of features…. in addition to daily cleaning with water, I use it twice a week. Gives confidence that my equipment will be completely bacteria-free.
Another user, Jetta W. says:
I'd recommend this product, any day…I really love my Clyn sanitizer box! Well, I purchased the device after I started using a CPAP device earlier in the year. I tell you, this is just what I needed to help maintain my equipment…. And it does it in the best possible way."
After washing, I usually place my mask, its headgear, and hose in the unit to dry and disinfect. Well, it could not be easier. The machine has fantastic options for either dry, sterilize, or both. I have successfully used it to sterilize other items, mainly cell phones, toothbrushes, wallets, and car keys. Highly recommend.
Surprising Multiple Usage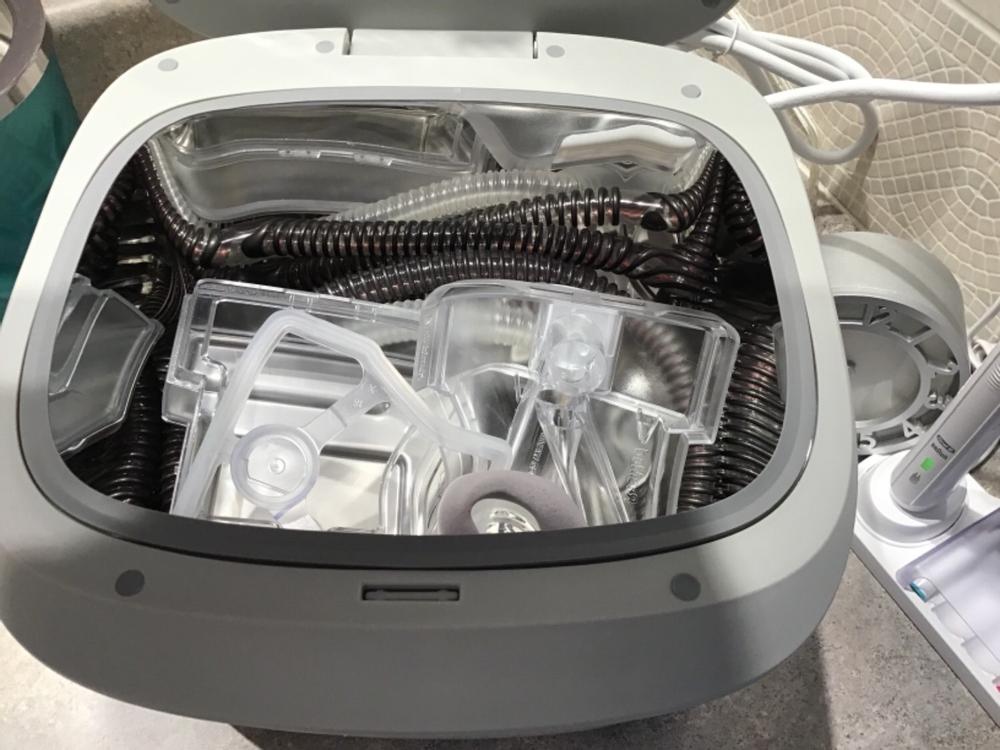 Linda R. also quickly recommends Clyn 6901 UV Sanitizer.                .
Here's what she says:
This device is a real time saver. For 2 years, I've been cleaning my CPAP gear daily by hand. I can now confirm it- Clyn 6901 UV sanitizer is such a time-saver; moreover, it sanitizes better! I'm delighted I purchased it!
And James M. says:
I'd quickly recommend it; I personally call it a good hassle machine. Yes, it works as advertised. And the only consumable is the air filter.
Jennifer L. excitedly wrote this in November 2019:
This unit (Clyn CPAP cleaner) surprises me a lot! Clyn has more capacity compared to most other products on the market.  I can even put my mask and hose inside simultaneously and sanitize them together."
What's more – I can even sanitize the baby's bottle! What a huge plus! And the multiple function modes are really nice. For me, I sanitize the mask every day. I discovered I could merely use the button for sanitizing.  So far, this is truly amazing; a worthy product with surprising multiple usages.
Are There Some Cons / Drawbacks of Using the Clyn CPAP Cleaner?
It's rather difficult to find any cons with using the Clyn 6901 sanitizer.
However, here's what Sandra M. wrote in May 2020:
While Clyn machine seems to work exceptionally fine (how would I know it's not doing the job!), the first one malfunctioned after only 2 weeks. Was this a defect? Perhaps. Clyn, however, sent me a new one right away; they also paid the postage to return the defective product. Maybe that's all I have to say. Otherwise, I find Clyn really convenient.
Craig K. (March 2020):
Here's a follow-up to my previous review…  I still LOVE the Clyn CPAP cleaner so much. Why, it does SUCH An excellent job in keeping my CPAP mask and hose spotless clean.
HOWEVER… There is a lesser-known use for these machines… Since they contain a powerful UV light that kills bacteria and viruses and they have a HUGE capacity, I discovered something else.
I have begun using them to sanitize almost everything… With my daily social exposure to lots of people in my line of duty and my wife seeing patients every day, we both have plenty to sanitize. We've found the Clyn CPAP cleaner as the solution."
Ben S.  Says:
After using my CPAP, I used to wake up every day with a stuffy nose….. I almost quit my CPAP therapy….. That was until I discovered the CLYN6901. So every morning, I would dutifully wash my nasal pillows and the water chamber and put everything in the sanitizer, leaving it there for about an hour.
After a while, it dried everything and sanitized all the equipment.. I really know it works. How? I no longer get the stuffy nose in the mornings; the mask has no weird smell. Of course, I recommend this sanitizer for everyone with allergies and similar chronic issues.
Conclusion:
Clearly, the Clyn CPAP sanitizer is well recommended by the majority of users. It's pretty difficult trying to get any defects with this widely used product.
Sonia l. seems to round it all up: She wrote this in January 2020:
Truly fabulous! I really love my new Clyn 6901. Yes, I love the design. I love the multiple functionalities and the convenience. Every morning, I take the mask off and place it right into the Clean.
I believe this product has extended the life of my various accessories; it takes care of my worries regarding the mask holding bacteria/ germs; yes, it dramatically reduces the possibility of making me sick. I highly recommend it to everyone!
Obviously, from such recommendations, the benefits of using Clyn CPAP seem to outweigh the possible downsides; still, it's advisable to weigh both.